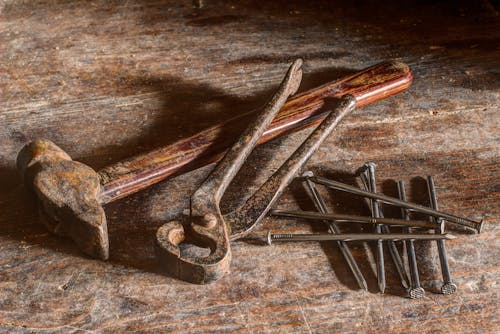 We're here to discuss some homemade rust removers that you can use to rid your tools of that ugly reddish-brown substance which, if left untreated, can corrode and ruin your tools over time.
Face it: getting rust on your tools will be inevitable at some point. After all, we live on a planet where oxygen and water are abundant and necessary for life. Steel tools are the most susceptible when it comes to rusting because steel contains iron. However, you'll be happy to know that there rust removers that you can easily find in your home.
What Exactly Is Rust?
Rust is the common name for iron oxide — a product of oxidation that occurs when iron (or an alloy containing iron like steel) reacts with oxygen and moisture in the air over an extended time.
The process of rusting (or iron oxidation) weakens the bonds of the metal and breaks it down to form that reddish-brown substance that you see on metals containing iron. Only iron or alloys with iron (such as steel) are capable of rusting.
Oxygen merges with iron and forms a new compound called oxide. Water acts as a catalyst because its molecules are capable of penetrating the cracks and microscopic cavities of exposed metal. The active hydrogen atoms in water molecules bond with other elements, forming acids which expose the metals even more.
Saltwater is worse because it contains chloride ions, which can speed up corrosion at an even faster rate.
IS RUST REMOVER REALLY NEEDED?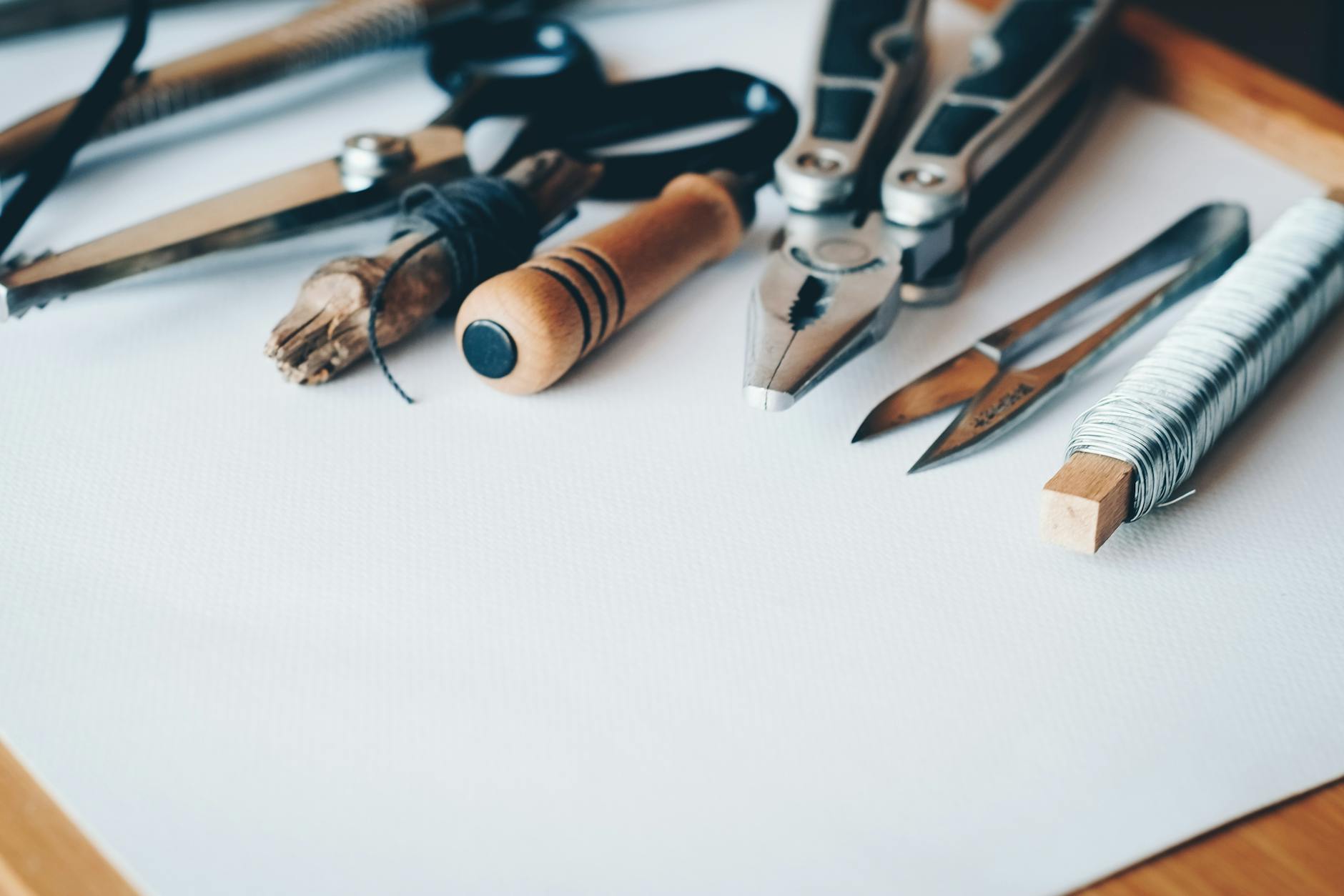 If you want to save your valuable tools from further deterioration then the answer is a resounding YES. Finding rust on your tools does not mean you can no longer use them. There are ways to remove that rust, and the earlier you do so, the better. As long as they haven't been completely consumed by rust, you can still restore your tools to their original state.
The good news is, you need not look too far for effective rust-removing remedies, and you don't have to spend too much money on them, either. Homemade rust removers are just as effective in getting the job done.
HOMEMADE RUST REMOVERS THAT ARE GUARANTEED TO WORK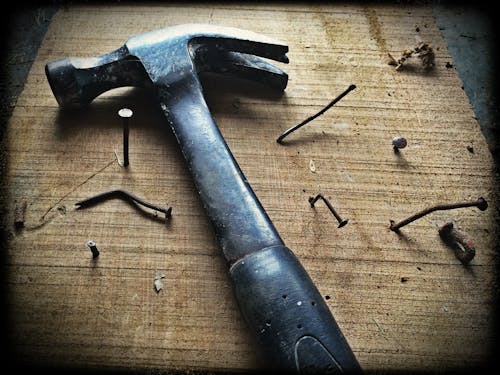 Homemade rust removers are convenient, easy-to-use, fast-acting, and best of all, do not contain harsh chemicals nor release noxious odors or fumes. With that said, here are some common and natural ingredients that you will have no trouble finding in your kitchen or pantry.
We'll walk you through the steps on how to use them as well.
1. Undiluted White Vinegar
click image for price
You're bound to find this homemade rust remover somewhere in your house because it serves a lot of important cleaning purposes. Vinegar contains acetic acid, which is very effective in dissolving and removing resistant rust.
You can either submerge the rusty tools in the vinegar or spray the affected area directly with undiluted white vinegar. Let the vinegar soak for about half an hour to two hours depending on how much rust you're dealing with. Tool experts even recommend soaking your rusty tools in a bucket of vinegar overnight for the best results.
Your tools might appear blackish after being soaked or sprayed, but don't worry: they will return to their original color after rinsing with water.
Scrub the tool with an old toothbrush or a nail brush to remove any remaining rust from the surface. When all the rust has been removed, rinse the vinegar off thoroughly because the acetic acid can damage the metal further. Make sure to dry the tool completely because leaving it moist will cause rusting all over again!
2. Baking Soda and Water
Another convenient homemade rust remover, baking soda is best used for removing rust at the early stages because a really bad case will entail a lot of forceful scrubbing.
To use baking soda, mix it with water to form a thick paste. The thickness should be enough to make the paste stick to the rusty surface. You can also apply the baking soda directly to the affected part by wetting the tool first and then sprinkling it with the baking soda next.
Allow the mixture of baking soda and water to sit on the affected areas for a considerable time and then scrub off with steel wool or a wire brush. For more stubborn rust, repeat the process as necessary.
3. Lemon Juice Mixture
There are several ways to use lemon juice to remove rust. Lemon juice can either be mixed with Borax, baking soda, or salt for it to become effective in removing rust.
Mix lemon juice with Borax or baking soda to create a paste and then apply it on the rusted area. Let it sit for about half an hour or longer, depending on how much rust needs to be removed. Keep the mixture damp by spraying it with just a tiny amount of water when it starts drying out. Don't over-spray, though.
Using an old toothbrush, scrub the paste to lift the rust off the surface. Repeat the process if there are still leftover rust that needs to be removed. Rinse off the rust and lemon juice mixture thoroughly before drying. Make sure that your tool is completely dry before storing.
Another alternative is to use lemon juice and salt. Sprinkle and coat the rusted area with salt and then squeeze some lemon juice on it. Allow it to sit for 2-3 hours and then use the rind of the lemon to scrub off the rust from the surface. Rinse off the rust, lemon juice, and salt thoroughly before drying.
4. Potatoes
You might find this a bit odd and unbelievable, but yes, the humble potato can also be a homemade rust remover!
Potatoes contain oxalic acid, a natural but powerful rust remover. All you need to do is to cut a potato in half and then cover the exposed potato flesh with salt or baking soda. Rub the rusted area with the salt-covered side of the potato. This action allows the oxalic acid to lift the rust off the surface while the salt (or baking soda) scrubs the rust away. Rinse thoroughly and dry completely before storing your tool.
5. Cola and Aluminum Foil
This combo homemade rust remover was discovered fairly recently by tool experts and makes for an effective method when it comes to general rust removal. Why? Because cola contains high levels of phosphoric acid: a common ingredient found in most commercial rust removal products. That might not sound too good for human consumption, but cola does the job in removing rust.
Fill a small container with regular cola (not diet) and then dip some aluminum foil into the tub. Polish your tools one by one using the aluminum foil that's been dipped in cola. For more stubborn rust, soak your tools in cola first before rubbing with the aluminum foil. Because cola can be a bit sticky to remove, make sure to have water and a rag handy to clean your hands with as you go along polishing your tools, one at a time.
Rinse off any remaining cola residue and then dry your tools completely before storing.
6. Ketchup and Washing Soda
This is yet another combination that probably raised your eyebrows to read, but it works! Create a mixture of water and washing soda in a spray bottle and then give it a vigorous shake. Soak the rusted areas with the mixture and then add ketchup.
Let it sit for about two hours before rinsing thoroughly with water. As always, dry your tools completely before storage.
Conclusion
The secret to removing rust effectively actually only involves two basic but essential things: an abrasive material to scrub off the rust and an acidic substance to lift the rust from the surface. That's why you shouldn't underestimate the power of the ingredients found in homemade rust removers.
While these homemade rust removers may seem milder and more natural than their commercial counterparts, you still need to exercise care when using them. They can still cause some damage to your tools if not used properly.
Remember to always rinse them off thoroughly after getting the rust out and to dry your tools completely before putting them back in storage. These homemade rust removers may be effective in removing rust, but they can also wreak havoc and create even more damage for your tools if not rinsed off properly. Rust-proofing your tools will also help protect them better against rusting. Rust-proofing acts just as a sealant would: it prevents moisture from getting into your tools.
Now that you know which homemade rust removers to can rely on, stock up on these staples as much as you can. They're inexpensive and multi-purpose anyway, so it'll be worth having them around.
Last update on 2023-06-09 at 13:33 / Affiliate links / Images from Amazon Product Advertising API